Bridge Storage and ArtSpace –  Built in 1993, Bridge Storage rents 762 units totalling over  in the categories of 65,000 square feet of storage; indoor, climate control, and parking.
Bridge Storage began an adaptive reuse of storage spaces into arts and music studios in 2011, and redeveloped 5,000 square feet of storage units into studio space serving 28 artists. Bridge Storage & ArtSpace is completing the renovation of 4 buildings into studio space which, when complete, will result in a total of 12,000 square feet of legal  workspace in unit sizes ranging from 100 square feet to 600 square feet.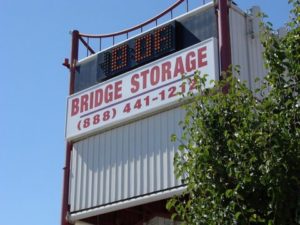 The model for Bridge Storage was a traditional storage business however owner Jeff Wright and Director of Operations Daryl Henline reimagined the model to meet the needs of incoming artists into the Richmond area. They also envisioned turning the lifeless buildings of the storage model into a bustling center of community activity.
This process began by connecting with local artist who already were tenants and discovering their needs and beginning a build out that allowed the proper space for artists activity. Additionally they wanted to meet the needs of a range of artists. Painters, sculptors, musicians and makers so they accommodated their needs in their design of studios.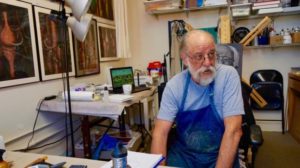 In addition they constructed a gallery area where artists, musicians and makers could display their work as well as  invite other artists to come and exhibit…and Bridge Storage and ArtSpace was born.
Their efforts multiplied and grew into over 25 artist spaces and in a short period of time developed into a bustling art community that coexisted in harmony with the Bridge Storage business. They have sponsored art exhibits, music events, record swaps and a variety of cultural gatherings from New Years Day bell ringings to Film screenings.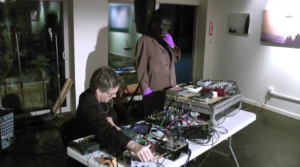 Not only did this transform the definition of a storage business but it also has overflowed into the local neighborhood and has helped serve to be a catalyst for community building in the Point Richmond area.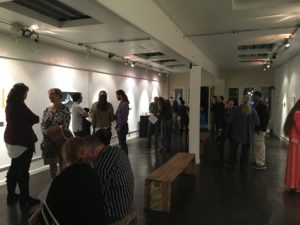 The Wrights, realizing that the gallery space had a life of its own, in 2015 decided to help fund, through generous donations, the nucleus of what has become BridgeMakerARTS.
BridgeMakerARTS is a 501c non-profit operating on the Bridge Storage and Artspace grounds, that serves and enriches community culture and involvement by providing public exposure to art and a means for participation in creative arts, crafts, and maker fabrication technologies. To date BridgeMakerARTS has shown bay area, national and international artists who make work in a variety of media.