Point San Pablo Harbor formerly known as Point San Pablo Yacht Harbor is located just outside the historic town of Point Richmond and through the "Village of Point Molate" and this marina boasts an interesting and varied history.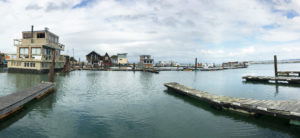 The origins of the marina come from the vision of the founder of the Richmond San Rafael Ferry Captain Raymond H. Clark.  The ferry used to be the only means to cross over the bay to San Rafael from Richmond & back before the bridge was built.  Captain Clark envisioned a marina at this location in 1939 but quickly discovered that creating a breakwater for his vision was no small task either in man-power or money.  A conventional breakwater/levy was unaffordable and so he came up with the unconventional idea of creating a breakwater out of sunken ships.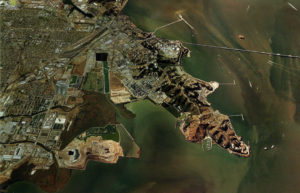 He managed to collect some condemned wooden schooners and tow them into position for his project.  The only access to the area at that time was by footpath over the hill and by boat.  The footpath was eventually enlarged to create the road that now exists.  The Railroad tracks of the time prevented a road from being built around the point and out to the harbor.
The vision of Captain Clark was to create a marina that would be closer to the popular fishing area of  San Pablo and his vision came to fruition with a large number of people keeping their boats in this marina a good number of party boats operating lucrative fishing businesses out of the marina.
BridgeSpace is currently developing a plan which will re-envision Point San Pablo Harbor into a multi-tier experience for bay area residents that includes marina access, renovated Galley Cafe and Sportsman's Club. Plans are also in development for leisure areas in the acreage above Point San Pablo Harbor with luxury camping, an environmental education center and a retreat facility. This unique area is a secluded gem in the bustling bay area. Form more information please visit the Point San Pablo Harbor website.